All Subscriptions Include
Unlimited Hail Paths
Complete with size markers and detailed information. Includes every hail storm path since 2011.
Superior Weather Analysis
Our hail maps and site specific reports use our patented analysis process, an industry exclusive.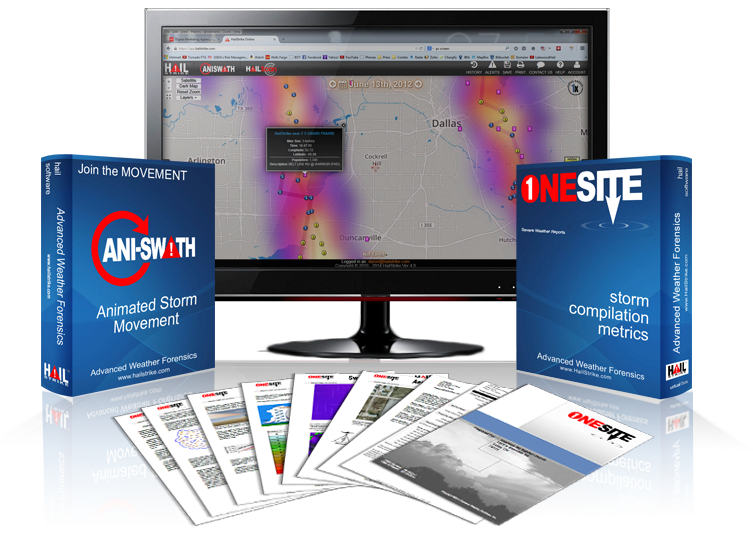 OneSite Mobile App
Quickly and easily generate site specific reports while in the field to share with prospective clients. Includes data back to 2011.
Historical Storm Search
Find every storm that's affected a location since 2011. See the footprint and intensity of every hail storm.
Why Choose Ultimate?
Unlimited AniSwath Maps
Our patented algorithm ensures the most accurate visual respresentation of hail data. Play back any storm since 2011 to see the storm progress over time.
10 OneSite Lite Reports A Day
See a list of every date of hail events that affected a specific location. Data inludes all dates since 2011.
The CLAIM Management System
A powerful suite of weather related tools to successfully manage your clients.
About CLAIM
CLAIM puts the power of customer management within your grasp. Review details of the property, owner, insurance policies and storm data all in one place. Unprecedented details ensure you have all the facts from start to finish.
Manage customer details and weather events from a single convenient tool.
Real time radar-based alerts for up to 300 locations.
Review historical storm activity for any location.
Property Value.
Notes to remind you of timely actions needed.
Each tag and note is searchable.
Be the professional your clients need.