Does Your Business Need Scientific Truth to Support Decisions?
Never compromise the data you use to fuel your business decisions/needs.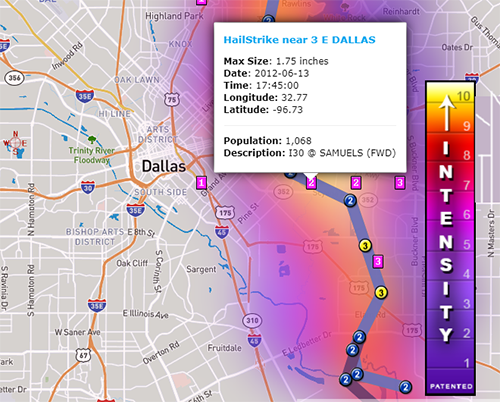 Intensity Breakthrough
What our patented technology means to you and your business
Unfortunately, hail information has traditionally been centered around the size of the hail. In reality, this is less of a factor as the intensity of the storm. An intense storm, with .75" hail, can cause much more damage than a hail storm reported to have 2.5"" hail, but only dropping a few stones. Our Intensity Scale clearly shows you the areas with higher intensity. You can also cross reference that data with the size of hail.
Be productive and efficient when you deploy your resources to react to a storm by knowing the actual dynamics of the storm.
HailStrike
Real time storm tracking with many interactive tools to help your business be as successful as possible. Set monitoring, measure with street level aerial imagery.
Mass Orders
Do you need 10 or even 10,000 reports? We can deliver site specific reports to you in bulk. Integrate our data with your software, or get individual reports.
OneSite Mobile Coming soon!
Cross platform mobile tool to see hail history based on your current location. Order reports or just see the dates of activity.
HailStrike Mobile Coming soon!
Take the power of HailStrike with you. In conjunction with the desktop version, you can view storms, set alerts or even order reports.
HailStrike Subscriptions Include
Unlimited Hail Paths
Free Interactive Training
Unlimited Support
10 Spotter Alerts
2 Statewide Radar Alerts
Roof Size Estimator
Over 20,000 Storms Available
Property Value Overlay
Desktop and Mobile Access