We are reminded every year of the great need for tornado early warning systems. This year Oklahoma endured widespread devastation in Moore and witnessed the record breaking EF-5 monster that passed along El Reno's doorstep. You may have wondered, "Why aren't we able to track tornadoes by radar?" The answer to that question is eloquently put on CASA's website.
"Today's weather forecasting and warning systems utilize data from high-power, long-range radars that have limited ability to observe the lower part of the atmosphere because of the Earth's curvature. This means that meteorological conditions in the lower troposphere are under-sampled, leaving us with precious little predicting and detecting capability where most weather forms." CASA's plan is place networks of smaller, short-range radars that won't be affected by Earth's curvature and objects that can easily block long-range radar like tall buildings and mountains.
This network of smaller radars will fill in the gaps missed by their bigger brothers, allowing those monitoring them to actually track tornadoes and give early warning to those in harm's way and that's only the beginning of the potential of CASA's radar network. Make no mistake; this is a monumental project.
Since the short-range radars only cover a few miles dozens would be needed just to provide a single city with enough coverage to be effective, but that doesn't seem to be slowing CASA down. CASA is actually a collaboration between multiple universities across the U.S. CASA even has members abroad including University of Puerto Rico, Institute for Earth Science and Disaster Prevention (NIED) of Japan.
CASA has more than a few obstacles before them in pursuit of a better way to track tornadoes, but they understand the challenges before them and are taking them head on.
On June 4th 2013 a strange blob of radar activity appeared in Huntsville, Alabama. Local weather meteorologists were surprised to say the least when what they originally thought was a popup storm appeared on radar.
Matthew Havin, data services manager at weather technology company Baron Services, told LiveScience in an email that they were receiving calls and emails from all over Huntsville and from meteorologists of neighboring states trying to figure out what was going on.
Theories attempting to explain the event ranged from ladybug swarms to aliens (of course). After analyzing the unusual blob with dual-polarity radar they were able to determine that the cloud was likely military chaff.
It turns out that after contacting Redstone Arsenal it was confirmed that they had been testing military chaff that dispersed in a cloud formation.
Not as exciting as ALIENS, but an interesting story nonetheless!
PLANO, Texas, April 26, 2013 /PRNewswire/ – HailStrike, a national leader in storm tracking and reporting has developed 2 new products set out to revolutionize the insurance industry. Aniswath (http://www.hailstrike.com/aniswath/sample), a patent pending algorithm that provides density, duration and direction of hail storms in a colorized fully animated map, allows users to follow the progression of a hail storm in real time and identify the locations with the most significant impact. OneSite (http://hailstrike.com/onesite/view.php?osid=1), a totally unique report based on the data interpreted by the algorithm, includes all the storm activity affecting a specific site address over the past 2 years.
Now insurance companies and adjusters can have access to all relevant data for a specific address and no longer have to rely on vague information to evaluate and analyze potential storm damage. There is also a 10-year backlog of historical storm data for that location that provides users with a real time historical picture of storm activity for a particular date.
July 9, 2013
(Houston, Texas) – Maxitile, a leading manufacturer of fiber cement roofing and siding products has joined forces with HailStrike (http://www.hailstrike.com) , a national leader in storm tracking and reporting to spearhead a national training seminar tour that educates contractors how to run their businesses more efficiently and effectively. The National Storm Damage Center, NSDC (http://stormdamagecenter.org), is a consumer advocacy group created to protect homeowners from unscrupulous roofing contractors and insurance scams. The NSDC, which conducts educational seminars nationwide, provides proper training and certification "to help roofing contractors grow their businesses the right way," states Dave Carlson, CEO of HailStrike.
"Maxitile is excited regarding the opportunities our agreement with HailStrike brings our customers. This is a new innovative facet to our marketing efforts targeting the replacement roofing contractor," says John Reagan, Maxitile's National Sales Director.
HailStrike, which provides instant and accurate graphical meteorological data that equips and empowers insurance companies, adjusters, roofing companies and various other service industries whose customers are impacted by severe weather, can recreate a hail storm with a fully colorized animated map that allows users to follow the progression of a storm in real time and identify the locations with the most significant impact. This enables insurance carriers and building contractors to focus exactly where the damage is located, following a severe weather event.
According to Jessica Navascues, CEO of Maxitile, "We are a manufacturing company and finding new ways to increase our value to our customers by identifying areas of opportunity. We believe this marketing outlet, HailStrike.com, will bring our products to the attention of replacement roofing contractors. We see our agreement as an excellent opportunity for sales growth and business expansion."
For more information please contact:
Maxitile
Stephen Mayo, National Roofing Sales Manager
Phone:  832-652-4695
www.maxitile.com
HailStrike
Mary Wubeshet, Media Relations
Office: 972-638-7225 ext111
www.hailstrike.com
National Storm Damage Center
Ches Bostick, President
Office: 214-842-3743
www.stormdamagecenter.org
Here at HailStrike, we are not content with "just good enough." We always want to improve our products and services, guaranteeing a superior product for our clients. Our AniSwath maps – as you likely know by now – are interactive, animated hail maps that display hail storms, showing the path of the storm and precisely where hail landed. These maps were upgraded recently; generated faster so they are immediately available.
Now, our outstanding development team has once again upgraded our AniSwath maps for superior tracking information. When ordering AniSwaths, customers are now informed of the best NEXRAD radar station or region based on an address they provide. This takes the guesswork out of the equation when trying to determine which station will provide me most information.
Also, the path data that is presented will be filtered based on the time span of the selected AniSwath. This makes it easier to view storm paths for a specific time frame on a day with multiple hail events.
HailStrike will continue to improve all products and services to give you the best possible information and tools. We will post any and all updates concerning our products. Now, try out our improved AniSwaths and get tracking!
It has been a while since we have posted the "Weekly Update," but we have been very busy. HailStrike has some very exciting things in the works. So, let's get started!
Dynamic Weather Solutions, the parent company of HailStrike, is releasing an all-new factoring service. Dynamic has secured $100 million in funds to spearhead their entry into the first ever factoring service involving insurance claims.
Factoring involves the selling of invoices to a third party company to improve cash flow and reduce bad debt; something that has been traditionally reserved for construction, transportation, medical, and manufacturing companies. With this service, roofers and insurance adjusters no longer have to wait 60-90 days for a claim to settle. Factoring with Dynamic Weather Solutions will guarantee immediate payment, allowing companies to complete projects and profit, instead of losing precious time and resources waiting for a claim.
In other news, our AniSwath maps are now generated much quicker. After a hail storm passes through an area, we will have our maps immediately ready for your hail tracking needs.
HailStrike will also continue its Free Seminar Tour. The dates are listed below:
July 9-10: Denver, CO
July 24-25: Minneapolis, MN
August 6-7: Jackson MS
September 3-4: Atlanta, GA
September 24-25: Nashville, TN
October 8-9: Oklahoma City, OK
TBA: Austin, TX
This summer has been prone to disastrous weather. Tornadoes seem to form every other week, leaving thousands devastated in their wake. Because these storm systems occur frequently during summer, it is best to understand warnings and know easy ways to prepare for potential threats.
Before a Tornado Strikes - 
Know the difference between these two alerts:
Tornado Watch – Tornadoes are possible. Stay alert and keep current with weather reports.
Tornado Warning – A tornado has been site or has been indicated by radar reports. Take shelter.
In order to prepare for a tornado, and the other destructive weather it brings, be sure to do the following:
Locate areas to take shelter. A basement, bathroom, or walk-in closet are preferable.
Purchase a battery-powered radio. This will allow you to listen to weather reports even is the power goes out.
Prepare an emergency kit: water, nonperishable food, extra batteries, first aid kit, copies of important documents
Make sure your insurance is up to date. It needs to cover flood, wind, and hail damage.
Turn off any gas powered items.
After a Tornado -
Take note of any damages. Log everything that has been damaged in the storm. Be sure to look out for hail damage. Hail stones can cause massive damages to a home (as we've mentioned in a previous blog post). Immediately report any damages to your insurance company.
Replace any food, water, or other small items.
Most importantly, make sure that everyone is okay. Properly patch up any cuts or scrapes and apply disinfectant to any wounds. Apply any other medications sparingly.
The end of May proved to be one of the most disastrous tornado seasons for the Midwest. St. Louis and Oklahoma City were bombarded with tornadoes, flash-floods, hail, and intense winds, killing 13 and leaving hundreds injured. The Storm Prediction Center (SPC) stated that it received roughly 24 reports of tornadoes between Friday (5/31/13) and Saturday (6/1/13) alone. After damages were assessed in the region, it is estimated that these storms created up to billions of dollars in damages.
It has been reported that large hail in Amarillo, TX on May 28th resulted in 25,000 insurance claims. The EF-5 tornado that devastated Moore, OK leveled 13,000 homes and caused up to 2 billion in damages. Farmer's Insurance has recorded 1,714 claims from just Friday's storm, with 75% concentrating on property and 25% reporting automotive damages.
Flash flooding complicated rescue and evacuation efforts. Hundreds took shelter in there homes, while thousands of unfortunate motorists had to find immediate shelter in local court houses, hospitals, stores, etc. Tens of thousands were left without power as the storms moved through the area. The Will Rogers World Airport in Oklahoma served as a makeshift evacuation shelter as tornadoes passed by overhead.
Our hearts and thoughts go out to all of the families that experienced loss during these storms and we hope that relief is found soon. It is during these times that we must remember to always keep current with severe weather and prepare for the worst.
Severe Weather: 
It seems that the severe weather from last week was only the beginning. A system of severe storms is moving through Texas, Oklahoma, and Kansas, bringing damaging winds, large hail, and potential tornadoes with it. Though the storms are potentially dangerous, they do not pose the same threat as those from last week.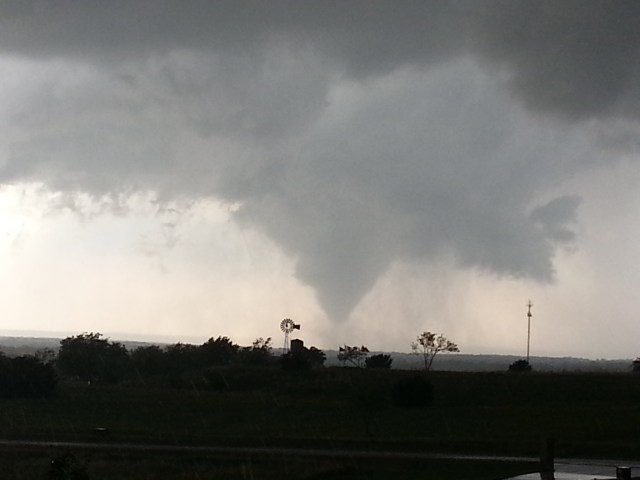 Because this is the season for severe weather, it is best if each household have an emergency kit. Families should prepare emergency kits with:
battery-powered flashlight
portable battery-powered radio
extra batteries
list of emergency phone numbers
any essential medication
first aid supplies
nonperishable emergency food
bottled water
extra cash
spare clothes
important papers, ID, etc.
For more storm preparation tips, visit the NSDC site, follow their Twitter feed, and "like" their Facebook page.
AniSwaths and OneSites:
The severe storm systems that we experience this time of the year usually bring hail. In order to assess damages and track storm information, it is imperative that adjusters purchase our OneSites. This comprehensive report provides a detailed and accurate description of storm duration, speed, direction, scale, and hail size for a specific location.
Roofers, adjusters, and trackers all need to use our AniSwaths. These animated maps show the duration of a hail storm, the intensity, the volume of hail, and the exact location in which hail has fallen. Using these maps is imperative for those who need to track hail or asses hail damage for specific areas.
Hail Fact of the Week: 
Hail stones larger that 0.5 inches can severely damage planes, causing immense damage within seconds.
Relief Efforts: 
As many of you know, an EF-5 tornado ripped through Oklahoma at the beginning of the week, leaving Moore in ruins. HailStrike partnered with the National Storm Damage Center (NSDC) to help provide aid to those in need. Daron Sneed and David Bryan loaded up a truck and trailer with bottled water, gloves, blankets, and other supplies and set out for Moore on 5/21. The two arrived at the city and began to distribute supplies. Many of the items were given to a donation center to help provide some relief to those who suffered from the storm.
HailStrike is also offering a report to those who request it. The report will give storm data and a map detailing which areas the storm hit. Anyone who needs information just needs to call HailStrike at (972) 638-7225 and the report will be given for free. The report will hopefully assist rescue teams during the recovery process.
Twitter: 
Our Twitter feed will be updating with information about the storm and any updates concerning the relief efforts. The feed will also answer any questions about our reports. We will ReTweet any information about this storm and any upcoming severe weather.
Hail Fact of the Week: 
The costliest hailstorm that hit the US sprayed eastern Kansas, Missouri, and southwestern Illinois on April 10, 2001, racking up $2+ billion in damages.